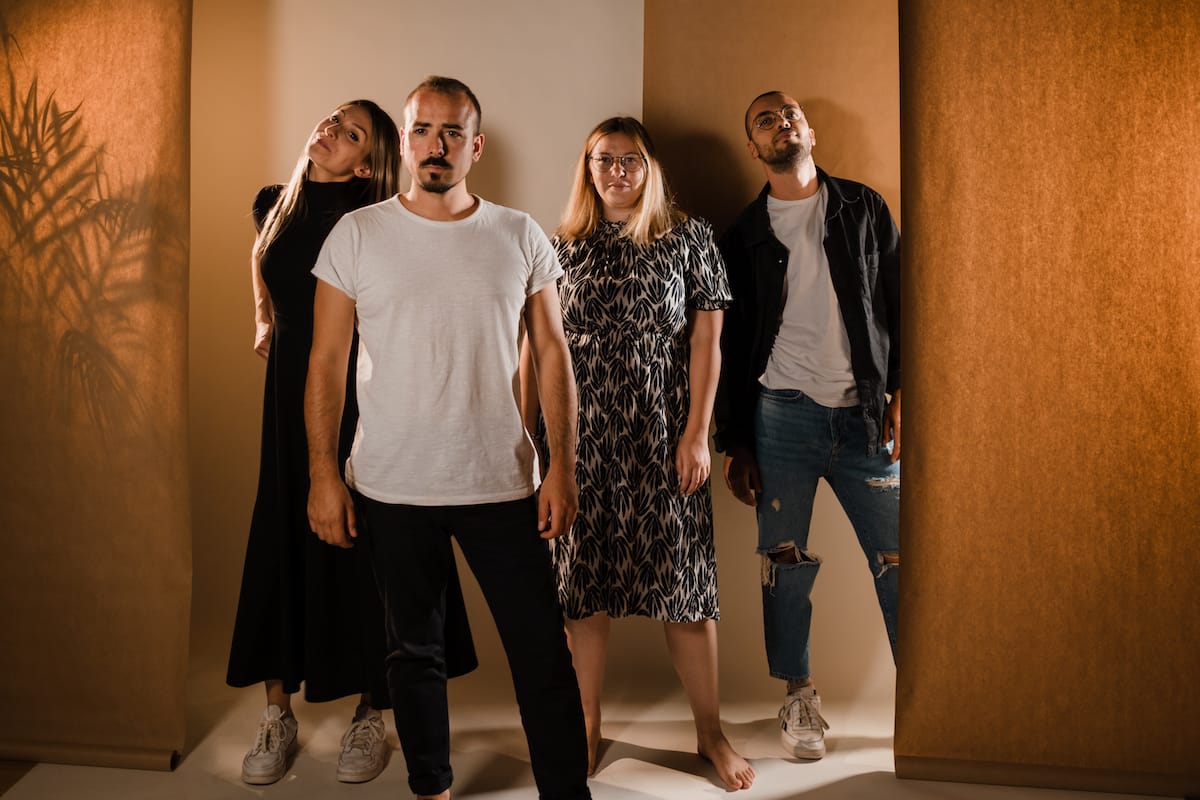 Being, first of all.
To be positive, because anything that can be thought of can be done, if you dare.
To be brave, because limits don't exist, if you're ready to create change.
To be creative, because certain stories can move consciences, if you know how to get excited.
To be exciting, because a video that travels around the world is a story that has no borders.
We are all this because we want to act to improve the world around us and which does not let us sleep, we want to address the issues of poverty, social inequalities, pollution, lack of information and training, to create a better reality, which inspires whoever looks at us to be better.
We do this by creating content that touches the conscience, telling true stories, giving voice to those who have something to say, creating a profound intimacy, almost a symbiosis, with those who watch us.
We do it because dedicating our lives to creating, experimenting, innovating, dreaming and exciting is more than our job: it is our goal, our mission.
Making cinema has always been one of the – few – cornerstones of my life.
As soon as I turned 14, I gave myself the freedom to choose cinema as my study path and to pursue my dream of moving people through music and images, as well as inspiring other people to do the same. In the following years I had the opportunity to grow as a producer and as a director, amassing a rich portfolio but at the same time moving away from my fixed point.
I founded ARE Films to start pursuing my dream again, which also means growing as an entrepreneur. Today I work with a close-knit team in the role of executive producer and director, taking care of relationships with collaborators and managing business risks, to transform our dreams into concrete projects and perhaps one day be able to demonstrate that nothing is impossible, even change – in our small way – Italian cinema.
I'm Léa Canu, line producer and co-founder of Are Films. Just after obtaining my scientific baccalaureate, I continued with a Higher Technician Patent in Audiovisual and then continued with a master's degree in Cinema Engineering.
Of an organizational and precise nature, my best weapon on a set is logic, which is essential to fulfill my role.
I was born in Paris and raised between the capital and an island they call Corsica. Now I live in Turin where I met my team that accompanies me in making my dreams and goals come true. If I had a dream as a child, it was to make sets, but now that I'm doing it, I dream of collaborating with the greats who have always inspired me.
When Are films was born, I had the idea of doing things differently, in line with my values, which is why I care about the development of eco-production within our sets. In fact, for this very reason, in 2019 I boarded the "Kraken" sailing ship to create a documentary on marine ecosystems: because I wanted to expose the world situation. This project in particular has materialized my love for video and what I have for nature and animals.
In high school, when what to do when you grow up is a big question mark for everyone, I just knew that I wanted to excite people. Cinema came as a natural response, with its power to connect people it struck me as something worth wasting nights for.
At the age of 15 I founded WeMedia with a friend, a miniature video production that served as a laboratory making us start experimenting with this world. I haven't stopped since then: I've continued to work on various projects, gaining experience and increasingly becoming a point of reference, and today, after several years, I'm here at Are Films, where I really feel at home.
I discovered that I loved the role of assistant director, which allows me to have my say in the conception phase and at the same time take care of the operational aspect of the sets. It's a busy life, but I hope I never calm down.
Every now and then I think about how I ended up working for a place I love and honestly don't know. I'm afraid the secret lies with an open one, that is simply following one's passions: when I was still living in Avellino and I discovered that there was Cinema Engineering in Turin, I didn't hesitate for a moment, I had to sign up. Since I moved there, everything has been a frenetic succession of events, Turin is cinema and for me it has meant diving into a world full of people, places, moments, friends, emotions, opportunities missed by a whisker and others seized on the fly. Even today this city never ceases to fascinate me. One of the attempts he gave me is Léa, whom I met in a group of friends linked to this world and who gave me the opportunity to introduce myself to Are Films to start working with them. Together with Andrea and Fabrizio she trusted me and if today I am a production assistant with responsibilities it is also thanks to them.
I can only hope and make this situation last as long as possible, because I truly believe that we can go very far, not only for our creativity or our production, but for the relationship we have, which will allow us to solve any difficulty.
Alessio Galdiolo – Diyala D'Aveni – Renato Pannella – Isabella Timossi – Alessandro Bettuzzi – Giorgio Leonardi – Sara Palmulli – Fabio Busatto – Fabio Sferruzzi – Pierpaolo Bottino – Matteo Basei – Martina Vinici – Federico Torres – Luca Orsi – Mattia Puleo
Benefit company
The purpose of the Company is to spread positive messages through the universal language of images and emotions that can help people and organizations to improve themselves and improve everything around them.
Being a Benefit Company, for a for-profit company, means deciding to voluntarily commit to complying with standards of purpose, responsibility and transparency, measuring one's results in qualitative terms as much as in the quantitative ones of economic profit. On May 29, 2020, Are Films was set up (immediately) as a Benefit Company.
Are Films believes in a new way of doing business that must take into consideration the social impact as a basic principle for long-term development. Click on the button to download the "2020 Impact Report"